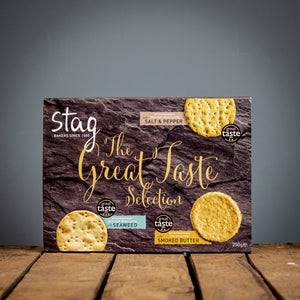 A selection of savoury biscuits most successful at the Great Taste Awards.
The Great Taste Selection tin is an award-winning trio of cocktail sized biscuits in an luxury embossed tin; the 2013 3* Seaweed Water Biscuits, the 2014 2* Smoked Butter Oatcakes and the 2014 2* Sea Salt & Black Pepper Water Biscuits.
The perfect treat for your cheese board.